We went out and tested the TOP CROSSBOWS OVER $1,000 head to head. The contestants are the newly released Ravin Helicoil R9, and Excalibur's new Micro Suppressor. In addition, the top-rated crossbow from 2016, the TenPoint Turbo GT Accudraw, which was the Outdoor Life Editor's choice. From the Stryker brand, the recipient of the Best Buy award a few years back, we tested their new 2017 Stryker Katana 385.

The review is focused around three main categories that are most relevant to hunting – DESIGN, PERFORMANCE & EASE OF USE.
DESIGN
RECURVE VS. COMPOUND
Compound crossbows are generally narrower and easier to cock. Recurves have less moving parts and are the only bows than can be fixed in the field if necessary. Both styles produce plenty of speed and power for any game.
ERGONOMICS / FIT & FEEL
Now, this is a subjective matter, but factors we focused for fit and feel are scope alignment, quiver placement, weight distribution, balance, and grip comfort.
TenPoint Turbo GT –Good scope alignment, short length of pull for slower target acquisition. It has decent balance, but borderline front end-heavy. The grip has slight room for improvement and the quiver placement is non-intrusive.
Excalibur Micro Suppressor –The shortest in overall length with superior balance, fast eye to scope alignment and overall great feel in the hand and on the shot. The rubber grips are a nice touch for comfort. Slightly heavy for such a compact crossbow.
Stryker Katana 385– Lightweight and very well balanced, without the nose dive effect. It gets on target quick and hold on target longer than expected. The quiver feels a little close to your hand, but easily manageable.

Ravin R9 –The narrow width can certainly be beneficial in some applications. Heavy front end resulting in poor balance and difficult to shoulder for more than a few seconds. The quiver infringes on both fore hand and grip hand. Poor eye to scope alignment that delays getting on target.

TRIGGER
There's no doubt a smooth, crisp trigger that breaks consistent will make you a better shooter!
Tenpoint Turbo GT – Had a nice light trigger pull.
Excalibur Micro Suppressor -Good trigger, but a little heavy.
Stryker Katana 385 – Good trigger, but a little heavy.
Ravin R9 – The smoothest trigger out of the group.

SAFETY
Ten fingers, ten toes, if you are not careful, who knows?
TenPoint Turbo GT & The Ravin R9: These come with automatic safeties, meaning they go into safety position upon cocking the crossbow. Both models have satisfactory finger guard protection, but the Ravin R9 could have extended their finger guard longer in a few spots.
The Excalibur Micro Suppressor & Stryker Katana 385: These 2 crossbows have a large conveniently located safety that you manually move to the safe on position after cocking, just like a rifle. More than acceptable finger guards on both models.

PERFORMANCE
SHOT NOISE
Quieter is better
TenPoint Turbo GT: Middle of the pack in noise, but certainly not offensive.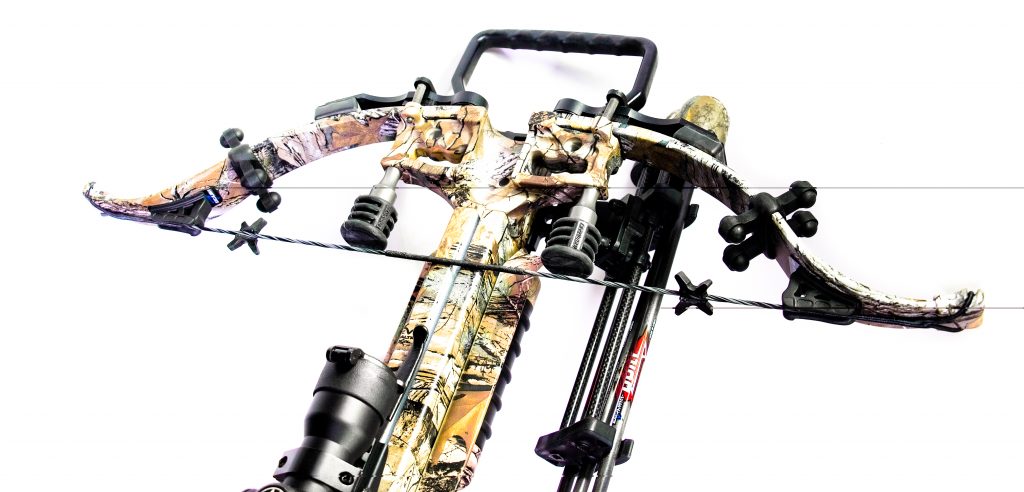 The Micro Suppressor: It was the second quietest crossbow tested. In real world sound, it was only slightly quieter than the Turbo GT and close behind the Katana 385.
Stryker Katana 385: The Katana was impressively silent for a crossbow.
Ravin R9: It was noticeably louder than the rest and finished last in this test.

ACCURACY
Hit what you're aiming at.
TenPoint Turbo GT: This was no slouch in this category and was neck and neck with the Katana on every shot.
Stryker Katana 385: Narrowly edged out the Turbo GT and finished second overall.
Excalibur Micro Suppressor: Took the lead as the most accurate at 20 and 50 yards.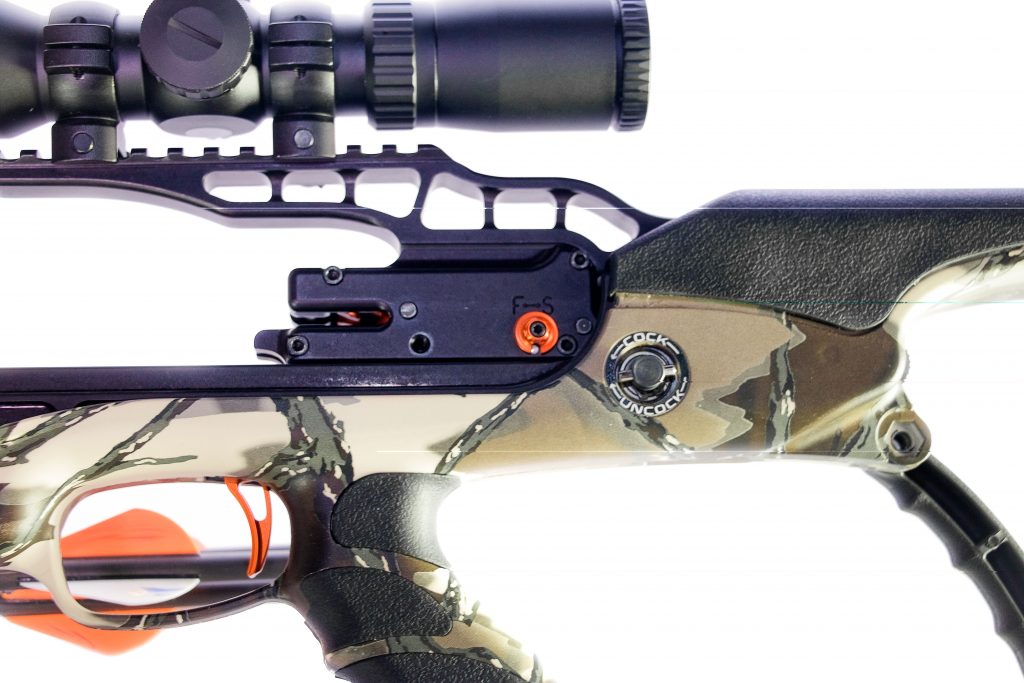 Ravin R9: This bow drove tacks most the time, however we experienced 'Flyers'. We researched the issue and discovered others have had the same problems. Due to the Airdeck, and its narrow limb profile, the Ravin R9 is very sensitive to fore-end hand pressure and left to right torque which resulted in sporadic arrow flight.

EASE OF USE
Human nature dictates that if you like something – you'll be more inclined to use it.
COCKING / DE-COCKING
Should be fast, easy and quiet.
TenPoint Turbo GT: Can be used with a rope cocking aid or the Accudraw crank. The rope cocking aid is simple and fast. The Accudraw is reasonably fast, but noisy. It reduces almost all the weight, however it is heavy and permanently attached which infringed on the face when shooting. To de-cock you must shoot an arrow.
Excalibur Micro Suppressor: Two ways to cock this bow, rope cocking aid or crank system. The heavy draw weight of the Suppressor is not ideal for using the rope cocking aid, but manageable. We recommend the use of the, albeit noisy, C2 crank which is easy to use and detachable. The fact you can de-cock with the rope cocking aid is an advantage.
Stryker Katana 385: Cocking is recommended with the rope cocking aid. The Katana 385 was the easiest. If needed, they do offer a C2 detachable crank that reduces the draw weight immensely. This bow has the unique ability to de-cock using the rope cocking aid.
Ravin R9: The Ravin uses an internal crank system. It's small and fast for a crank, and can be hidden in the stock. On the flip side, it's the noisiest crank system we tested and this bow cannot be cocked with a rope cocking aid. Ravin says you can de-cock with the crank, but be careful the handle doesn't get away from you or your hand will be the recipient of a good whack from the handle.
Cocking

Decocking

LOADING
There should be nothing complicated to this, especially in low light hours.
Ten Point Turbo GT: They use a crown nock that is one of the safer nocks to use and the arrow lays directly on the rail for maximum contact as stability while being fired.
Excalibur Micro Suppressor: Utilizes a flat back nock that you can't screw up and can be loaded with any vane down. It also lays directly on the rail ensure constancy and stability.
Stryker Katana 385: Uses moon nocks that are more susceptible to improper loading if you're not careful. The Katana takes advantage of the rail system similar to the Excalibur and Tenpoint.
Ravin R9: Uses the capture nock. You have to slide the arrow in from the front through the guard, lock the nock onto the string and seat it on the arrow rest.

MAINTENANCE
Take care of your tools and your tools will take care of you.
All crossbows will require general maintenance, string waxing, adjusting, lubrication, etc. Generally speaking, compound crossbows will require more maintenance as they have more moving parts than a recurve.
We found Excalibur had a clear advantage: you can do all your own maintenance yourself in the field. If you ever cut the string or need to adjust, all you need is their stringing aid, a set of allen keys and the spare parts. The other tested models require a trip to your local dealer. The Ravin looks to require an even more specialized press than your local shop may have due to the sub compact limb design and internal cranking system.

WARRANTY
Yes please.
Ten Point: They have been around for a long time and have good customer service. They feature a limited lifetime warranty to the original owner. (Except the limbs and scope)
Excalibur Crossbow: Providing great service for 30 years. They feature a limited lifetime warranty to the original owner.
Stryker: Their service has come a long way since a few years back and look to be headed down the right track. They feature a limited lifetime warranty to the original owner.
Ravin: Being only a year old, it is hard to measure against the others. This was the only crossbow that didn't feature a lifetime warranty. This crossbow feature a 5-year warranty.
SUMMARY
At the end of the day, all four of our crossbows had their advantages and disadvantages. All of them are more than capable to take out hunting but I was looking to see in particular how the new Ravin R9 would stack up to the others well known leaders based on my hunting platform criteria. Unfortunately, it didn't score well enough across the board to knock off any of the big players.
RATING
#1 – Excalibur Micro Suppressor – WINNER Score: A
The Micro Suppressor really shined in several categories. Ergonomics, size and balance were great. It felt and shot well with quick target acquisition, which is an absolute must in hunting environments. The real advantages were the bullet proof design, less to go wrong and the fact you can de-cock and change your own string. It's obvious the folks at Excalibur are crossbow hunters that build products for crossbow hunters. All this adds up for any hunter looking for a crossbow that's ready to perform for the long haul.
#2 – Stryker Katana 385 – SCORE: B+
The Katana 385 didn't steal the show in any category but it was never far from second place anywhere. Pound for pound you could put this crossbow up against anything and it wouldn't be out of place. It was the easiest to cock, yet maintained top speeds. It has great ergonomics, fast target acquisition and was the most efficient crossbow tested. It was easy to stay on target and the fact you can de-cock it is a major bonus. This crossbow just scores high in every category, but simply couldn't surpass the durability and confidence of what Excalibur offered.
#3- Ten Point Turbo GT Accudraw: SCORE: B
The Turbo GT was an above average performer. It was easy to cock, has a narrow profile and sports a nice trigger. It's lack of balance and ergonomics kept it from scoring higher. The Accudraw is easy to use but not worth the trade off in bulk, sound and weight of the crank. Not a bad bow at all, just not at the level as the Excalibur and Katana.
#4 – Ravin R9 – SCORE: C+
This crossbow has some truly admirable qualities and features, but as a hunting crossbow, we must say we were disappointed. It has great originality, smooth trigger, narrow width and a compact internal crank. However, they were far outweighed by its accuracy robbing sensitivities, ergonomics, scope alignment, annoying quiver placement and exposed trigger unit along with the loudest cranking system tested. It was $300 dollars more than the closest priced crossbow and we have a hard time justifying the additional spend. The overall length was too long and front heavy to get comfortable with. If only looks could kill.
Top Crossbow Scorecard